5 Hottest Handbag Trends of the Season
Let's face it; everybody needs a wardrobe refresh when the weather starts warming up. More than that, every woman needs to update her spring purse collection. To help you as you begin your shopping spree, here are five, Jackie approved, handbag trends to launch you into spring. Choose a style that works best for you and we can help get your hands on a bag that you love.
The 5 Trends
This spring, it's all about the smaller, the better! Micro purses are incredibly on trend and easy to pair with any outfit. They come in all shapes, sizes and prints, making it easy for you to find one that you love. This style is not only functional, allowing you to carry with you just the essentials, but a great accessory to add to your wardrobe. This trend is a definite must have as the warmer months approach!
SHOP THE LOOK
Nothing gives off effortless warm weather vibes quite like a straw purse. These beauties come in hundreds of shapes and sizes. There is no doubt that you'll be able to find a bag that fits your style. Go small and use it as a purse. Go big and use it as a beach tote or over the shoulder bag to show off at your local Saturday morning farmers market. Consider going the extra mile and knotting a small handkerchief around the handle for some added vintage flare.
SHOP THE LOOK
This modern, chic bag will elevate any look, no questions asked. Circular purses are the perfect statement piece that can easily transform a day at work to a night on the town. Consider trying some fun pastels and bright spring colors to add vibrant flare to your look. Right now, Jackie is carrying Clare V bags, the perfect, circular, spring handbag! Contact your stylist if you want to get your hands on one of these beauties.
SHOP THE LOOK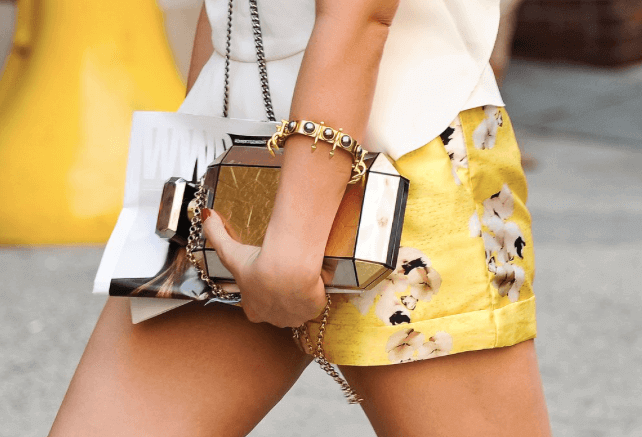 Consider rocking a chunky clutch this spring. This trend sports fun retro flare and lets you carry all of your essentials. Look for a clutch with bold prints, vibrant colors and and abundance of texture. This is a piece that will easily turn your everyday look into a beautiful fashion statement. Many of these clutches come with a drop chain for easy, over the shoulder wear so you don't have to worry about having your hands full at every moment. This is a piece you won't regret having on hand as we leave winter behind and spring ahead towards summer.
SHOP THE LOOK
This is a trend that Jackie has been loving since the fall. The good news? It's here to stay and will continue to be a wardrobe essential long into the warmer months. Small backpacks are an easy and fashionable way to carry with you everything you need, while not having to worry about straps, chains and cumbersome crossbodys getting in your way. Try pairing this trend with your favorite athleisure look! With petite backpacks, the possibilities are endless.
SHOP THE LOOK